Duel Of Ages
is an ambitious production featuring twenty-one of Toronto's best stage combatants in a showcase of epic proportions. Six scenes by award-winning playwrights highlight the evolution of the duel of honour through the last four hundred years. Comedy, drama, and spectacular action combine into a a one-of-a-kind experience!
Rated NNNN by Now Magazine
!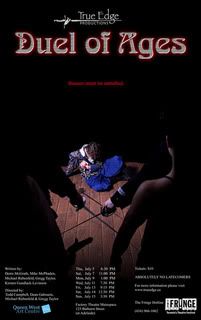 (click for full-size goodness)
Duel Of Ages runs from July 5-15 at the Factory Theatre Mainspace. For ticket information, check
the Toronto Fringe Festival website
.